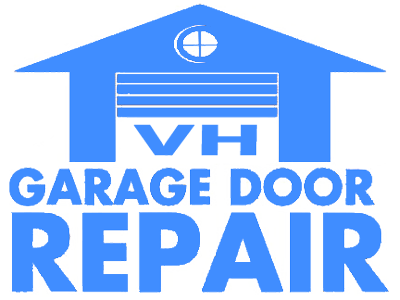 Licensed. Bonded. Insured
Same Day Service
VH Garage Door Repair
in Vernon Hills
Garage Door Repair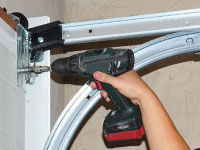 Local Garage Door Repair
| Vernon Hills
Our everyday mission is to quickly solve your inconvenient garage door problems. It makes us proud and happy to be able to help residents of Vernon Hills IL, and all surrounding areas and make their broken garage door work like new again.
Garage Door Off-Track | Main Causes
This is never a good sign to see your garage door off-track. It means that either someone drove into your garage door with a vehicle or there is a major failure of one of the garage door components. Typically a broken garage door spring or garage door cable will make your garage door go off-track but it can be also caused simply by a malfunction of garage door rollers.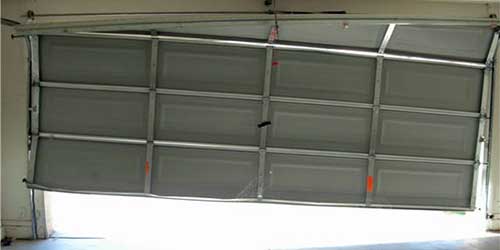 Garage Door Spring Repair
Garage door springs are by far the most frequently replaced garage door component. There is not a single day when our garage door technicians didn't attend the problem where garage door spring replacement would be required.
Every garage door spring has its lifespan which is calculated in cycles. One cycle represents a garage door going completely up and then back down to fully closed position. An average lifespan of a garage door spring is around 10,000 cycles.
You will know that your garage door requires a garage door spring replacement as soon as you start hearing strange squeaky sounds. You may also notice that your garage door operates slower or faster than usually. These are the signs indicating your garage door is facing failure in the nearest future and it would be unwise to ignore them. Please, call our garage door professionals immediately and we will be happy to help before it's too late.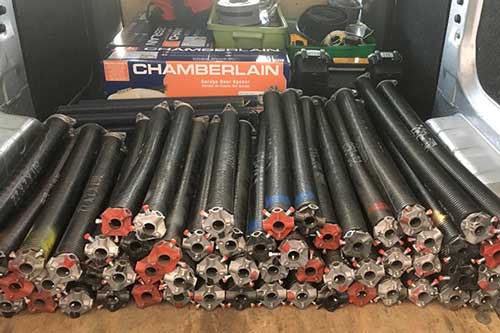 Our garage door technicians always carry a complete stock of various garage door springs in their work vans. Don't hesitate and call us right away if you have been experiencing problems with your garage door lately.
There are two things you need to know about our garage door repair service:
we guarantee same day service to make your garage door working in no time;
we always stick to industry best practices in order to provide the highest quality service possible.
Don't hesitate and call us right away if you have been experiencing problems with your garage door lately.
Garage Door Cable Replacement
Broken garage door cable is another common cause for a garage door failure. When a garage cable breaks on one side due to regular wear and tear it immediately causes imbalance and makes your garage door go off-track. This is why it's very important to have your garage door system periodically inspected. As soon as you notice a garage cable starts fraying, do yourself a favor and call our garage door professionals right away. It will save you from a much bigger problem in the future as those signs indicate that garage door failure is inevitable.